DESCRIPTION
The Antigravity Magnetic Levitation kit will positively draw kids into magnet science with six engaging experiments. They will use magnetic forces to build an antigravity sculpture, a floating spinner, a compass, magnetic scale and magnetic spring, a random propelling machine and a personal transporter. As they complete the experiments they will grow in their understanding of magnetic attraction and repulsion and develop concepts of how magnets are used in real-world technical applications.
The Antigravity Magnetic Levitation Kit includes all materials and an instruction guide that takes you through each experiment step-by-step, explains the science of how each one works, and provides magnetism fun facts. Ages 8+.
2013 Product of the Year Award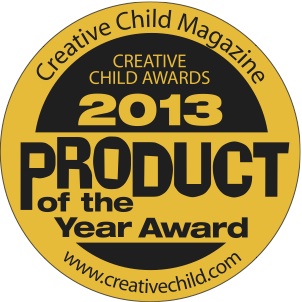 MORE INFORMATION BOX
CONTENTS TAB
Antigravity Magnetic Levitation Kit contents:
Support arm
Baseplate
Weighing pan
Rod with ring
Round shaped rod
Hexagonal rod
Divider
7 ring magnets
10 hex nuts
Axle
Copper washer
Enclosure
String attachment
String
UFO body
Sticker
Graphics template
Instruction guide
SPECIFICATIONS TAB
MG-ANGRLEV
Warning: CHOKING HAZARD - Small parts. Not for children under 3 years. Adult supervision required.
My Science Perks
My Science Perks is FREE! Just place your order while logged in to your Home Science Tools account and you'll automatically earn up to 6% back when your order ships!
Learn More