DESCRIPTION
With the Science Buddies Neutralizing Bacteria Kit, explore how to kill, treat, or neutralize E. coli bacteria. Try any of six projects developed by Science Buddies scientists for kids to use in tandem with this experiment kit.
One crazy method is "feeding" the bacteria to Earth's most abundant animal (that you may have never heard of!). Another tests common pimple creams, which might help kids choose which one to use on their own acne. And two other projects explore how bacteria interacts with metals.
The Neutralizing Bacteria Kit includes prepared agar plates, sterile gloves and swabs, and a LyoQuick vial of E. Coli. The easy-to-use freeze-dried culture is a safe strain that's found in your intestines—not the kind that causes food poisoning. E. coli is a gram-negative, facultative, anaerobic bacteria.
The E.coli sample comes in a self-contained tube with two ampules: one with freeze dried bacteria and one with sterile rehydration broth. Just pinch the tube to break the internal ampules and let the freeze dried organisms rehydrate. Then use the dropper tip to dispense the bacteria onto the prepared culture dishes.
Instructions for this kit are available online. See below links to the instructions and more.
Use the Neutralizing Bacteria Kit with the following projects, found online at Science Buddies:
Please note: agar plates are non-refundable and cannot be cancelled once an order is placed.
MORE INFORMATION
Instructions are NOT included with the kit, but are available online from Science Buddies.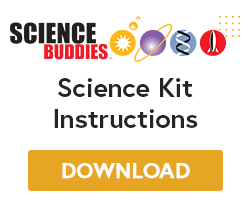 CONTENTS
Science Buddies Neutralizing Bacteria Kit contents:
15 Nutrient-Agar-Prepared Culture Dishes
6 Sterile swabs
2 Pairs of nitrile gloves, size medium
Sensitivity Discs, sterile, pack of 50
You will also need from home:
Depending on which projects you do, additional supplies, like soil, permanent marker, sterile water, OTC acne medication, garlic powder, bleach, common lab supplies, and more, may be needed. Please consult the instructions for each project for a complete list of additional materials.
SPECIFICATIONS
SB-BACTUSE
Shipping Restriction: The 15 agar plates in this kit drop ship only to Postal Service addresses in the contiguous 48 US states. Please allow 1-week for delivery. An additional $11.50 shipping charge applies to each item. Shipping may be delayed in extreme hot/cold weather
My Science Perks
My Science Perks is FREE! Just place your order while logged in to your Home Science Tools account and you'll automatically earn up to 6% back when your order ships!
Learn More