DESCRIPTION
Open up a world of robotic wonder with the MOSS Exofabulatronixx 5200. This remarkably intuitive robot construction system lets you build thousands of robot creations that react to the world around them using four different types of sensors. Or, you can pilot your robot using the included Double Brain Block that connects to iOS and Android devices via Bluetooth. Create your own robotic remote control front loader or race car. Rearrange the blocks to build a robot-dinosaur or Mars rover. With the MOSS Exofabulatronixx 5200 you can build almost anything you can imagine. The best part is there is no programming required, all you have to do is connect these robotic blocks together to build the robot of your dreams.
MOSS is an intuitive, fun robot construction system from Modular Robotics that allows you to quickly and easily build robots of your own design. It was developed with a grant from the National Science Foundation. MOSS blocks are each mini robots that communicate with their neighbors. Each MOSS block has "rare earth" magnets in the corners and they connect together using steel ball bearings.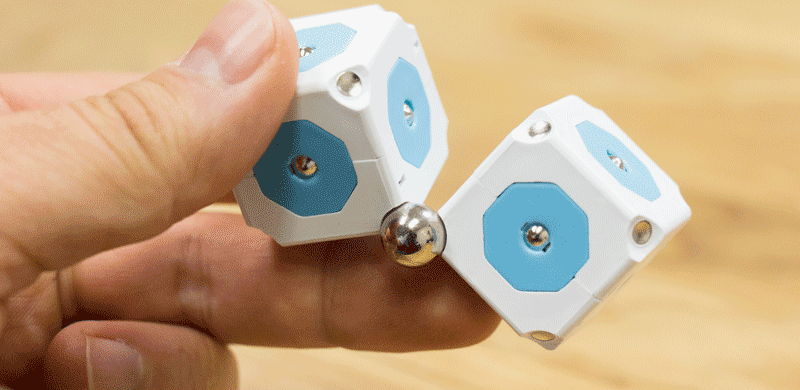 It's easy to snap MOSS blocks together to make a static structure, but to make things move or light up, you'll need to understand the color coding system for the individual faces. Green faces conduct power. If you look at the Battery block, you'll see that it has only green faces; this block's main purpose is to supply power to other blocks. To power up a MOSS block like a Spin, for instance, you'll need to connect one of its green faces directly or indirectly to one of the green faces on a Battery module. Red and brown faces conduct data: red is data output and brown is input. If you want a Proximity sensor to control the speed of a Spin, for instance, you'll need to connect the Proximity's red data out to the Spin's brown data input. The blue pass-through face can pass any signal, either power or data.
The MOSS Exofabulatronixx 5200 kit includes 52 MOSS blocks and 140 steel spheres to build multiple or more complex robots. The kit is powered by a rechargeable lithium polymer battery with an included micro-USB cable. The MOSS Exofabulatronixx 5200 includes a Battery, 2 Motors, 2 Pivots, 2 Flashlights, 2 Light Sensors, 2 Proximity Sensors, Microphone Sensor, and a load of connection and support pieces. The most unusual block in this kit is the Double Brain Block which lets you connect to your iOS or Android mobile devices using Bluetooth so you can play with your robots using a suite of free apps.
NOTE: This product may be ineligible for some promotions.
MORE INFORMATION BOX
CONTENTS TAB
MOSS Exofabulatronixx 5200 contents:
1 Battery extended bock
1 Double Brain block (provides Bluetooth connectivity)
2 Motor blocks
2 Pivot blocks
2 Light blocks
2 Proximity sensor blocks
2 Brightness sensor blocks
2 Knob sensor blocks
1 Microphone sensor block
8 Corner blocks
6 Hub blocks
4 Wheels
2 Axles
2 Long Flexy connectors
2 Short Flexy connectors
4 Arch braces
3 Short braces
2 Long braces
4 Corner braces
140 magnetic spheres
1 Micro-USB charging cable
SPECIFICATIONS TAB
WARNING: CHOKING HAZARD - Small parts. Not for children under 3 years.
My Science Perks
My Science Perks is FREE! Just place your order while logged in to your Home Science Tools account and you'll automatically earn up to 6% back when your order ships!
Learn More