Holiday Shipping

Dear HST Customers,
We know it's important that your holiday gifts arrive on time! While we can't control what happens once a package leaves our warehouse, we can promise you that we'll work hard to ensure your order is packaged with care and shipped out our doors in a timely manner.
Take a look below for help determining when your order from our warehouse. For the most accurate estimates, we recommend using the "Estimate Shipping" tool in your shopping cart. A few tips to keep in mind:
Shop Early – The sooner you can place your orders for the holidays, the sooner we can get the package out the door. If there are any unexpected delays with couriers, there will be buffer time for the arrival of your order.
Back Orders – If an item on your order is on backorder, it will be clearly stated in your order confirmation email. Please reach out to us at [email protected] if you have any questions regarding your order.
When you give a science gift, you're also gifting wonder and lifelong learning. We're thrilled to be a part of your holiday planning.
We wish you a wonderful Christmas season!
Home Science Tools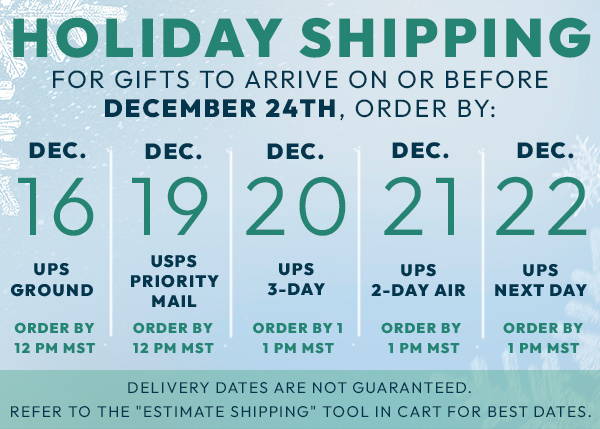 Things to Know
From December 7 through December 23, we ship orders the same day if placed by 1:00 pm Mountain time for UPS air shipments and if placed by 12:00 pm Mountain time using other shipping methods. These times are reflected in cart/checkout delivery date estimates. Outside those dates, the cutoff time for same day shipping is our normal schedule -- 1:00 pm MST for UPS air and 7:00 am MST for everything else.
If you aren't confident you will receive your package in time, please call us at 406-256-0990 and we'll be happy to help you choose the best option.
We ship orders Monday through Friday. Our office will be closed and orders will not ship on Nov. 24, Nov. 25, Dec. 26, Dec. 27, and Jan. 2.
Click Estimate Shipping in the cart or enter your address during checkout to see accurate delivery date options and costs. This is the best way to get accurate information regarding when your shipment will arrive.




For details on shipping methods and restrictions, see our Shipping Information page.