DESCRIPTION
If you have ever made ice cream, you know that salt is a key to getting homemade ice cream to freeze—discover why with this food-themed chemistry kit! From authentic glass test tubes, to laboratory grade graduated cylinders, a scientific thermometer, and a highly accurate gram scale, this kit contains all the specialty equipment needed to tackle our Chemistry of Ice-Cream Making: Lowering the Freezing Point of Water project.
With this kit and a bit of salt and sugar from your kitchen pantry, you'll be ready to explore how the freezing point of water can be changed. Beware though, this science exploration may spark more than an interest in chemistry—it may also have you reaching for a bowl of ice cream and a spoon!
Instructions for this kit are available online. See below for links to the instructions and more.
You will also need from home:
Water
Ice
Salt
Sugar
Teaspoon
Lab notebook
MORE INFORMATION BOX
Instructions are NOT included with the kit, but are available online from Science Buddies.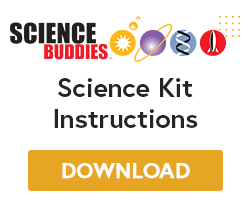 If you have questions about your kit, please see the following FAQ article from Science Buddies:
CONTENTS TAB
Each Chemistry of Ice Cream Making kit contains:
8 Test tubes
1 Test tube rack
6 Beakers, 250 mL
1 Graduated cylinder, 100 mL
1 Economy scale, 500 g x 0.1 g
1 Thermometer
2 Stir rods, glass
1 Foam cup
SPECIFICATIONS TAB
My Science Perks
My Science Perks is FREE! Just place your order while logged in to your Home Science Tools account and you'll automatically earn up to 6% back when your order ships!
Learn More