DESCRIPTION
Learn about the chemical reactions behind bath bomb science with this kit. A bath bomb contains several ingredients mixed and molded into a shape. Once it hits the water, the fizzing chemical reaction begins.
Use the supplies in the Bath Bomb Science Kit to make your own homemade bath bombs. By adding the included fragrance, the bath bombs create a luxurious bath time. Explore how changing the amounts of the different ingredients affects the fizz factor. Once you've perfected your recipe, your relaxing, fizzy bath awaits. Keep them for yourself, or give them away as gifts!
Instructions for this kit are available online. See below links to the instructions and more.
You will also need from home:
Large bowls
Masking tape or painter's tape
Pen or permanent marker
Water
Vegetable oil
Forks and spoons for mixing
Optional: Helper to help you time the reaction times.
MORE INFORMATION BOX
Instructions are NOT included with the kit, but are available online from Science Buddies.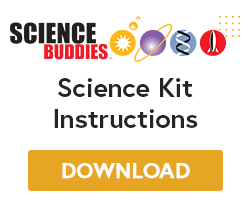 CONTENTS TAB
Each Bath Bomb Science Kit contains:
Baking soda, food grade, 1 lb
Colorant, food grade, 4 colors
Cornstarch, food grade, 1 lb
Citric Acid, food grade, 8 oz
Epsom salt, food grade, 1 lb
Fragrance oil, Raspberry, 30 mL
Fragrance oil, Vanilla, 30 mL
Thermometer, Fahrenheit & Celsius
6 complete bath bomb molds
SPECIFICATIONS TAB
My Science Perks
My Science Perks is FREE! Just place your order while logged in to your Home Science Tools account and you'll automatically earn up to 6% back when your order ships!
Learn More